Top 10 things to do
in and around Bethany Park…
1.
World famous (in Kaiteriteri!) 60 metre Bethany Park waterslide!
In Camp One is the very popular free-standing 60 metre water slide. All ages take to the slide and enjoy the freedom of speeding downhill in cool stream fed water! It is only for Bethany Park guests from mid-December to late January.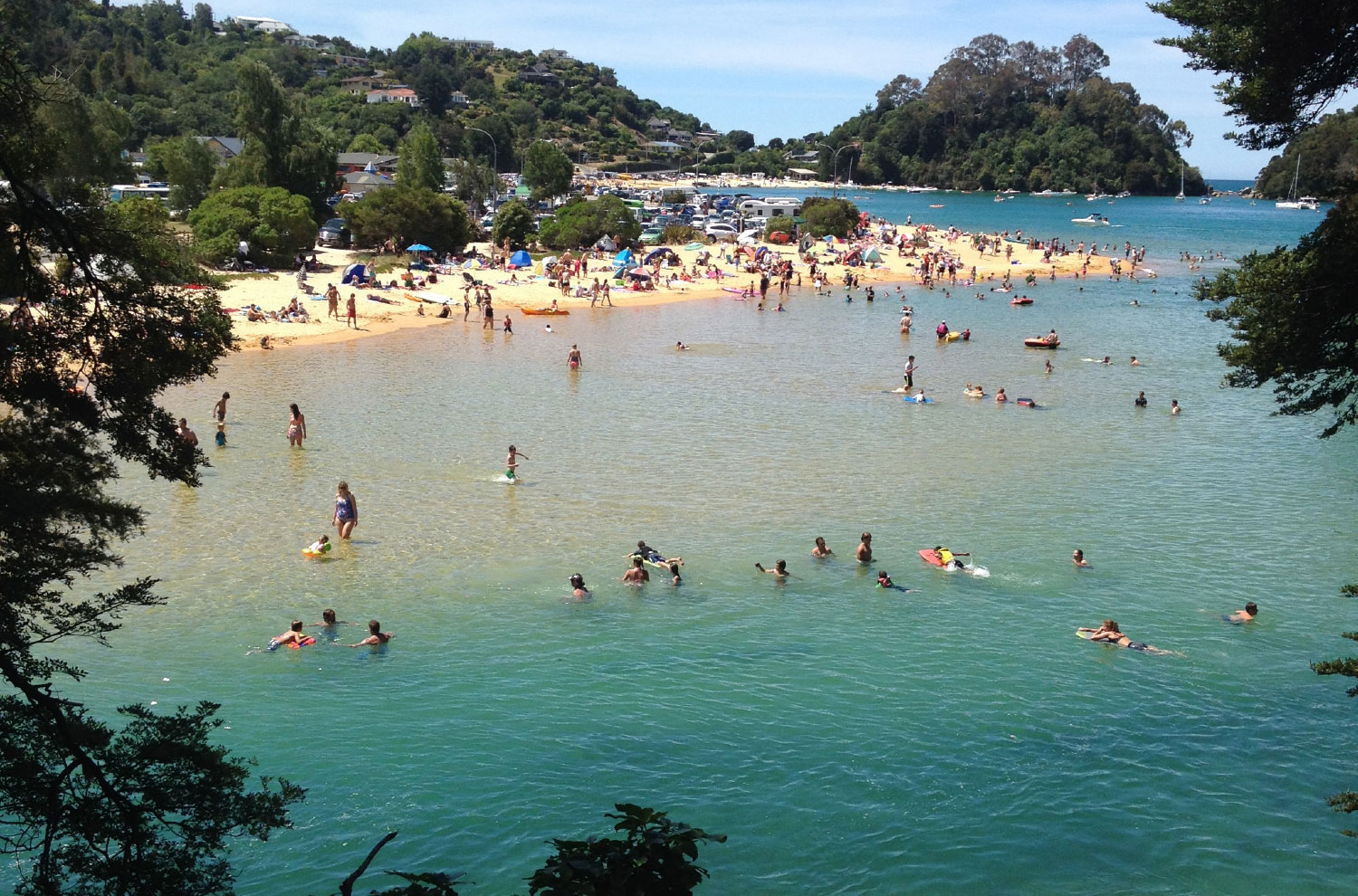 2.
Kaiteriteri Beach – one of the top ten beaches in New Zealand
Just a ten-minute stroll along the road or through the bush estuary walkway leads you to the beautiful golden sands of Kaiteriteri Beach. It is perfect for families of all ages as well as room for kayaking, water skiing and stand up paddle boarding. Best time is February, less people warmer waters!
3.
BMX track for our young campers (5-10 years)
For our younger campers there is a BMX TRACK. With 60 metres of track and 6 jumps, this is definitely a firm favourite with our younger campers.
4.
Playgrounds and outdoor table tennis
We have two playgrounds and outdoor table tennis, bats are provided and you can purchase your own ping pong ball for a dollar at the office! It is concrete, so good in all weather!
5.
Not your average 18-hole golf course! For a start it is just 9 holes, in a paddock, up a hill and you use tennis balls and golf clubs. We do however have a score card for the competitive golfer among you. See the office staff for cost and collection of balls and clubs.
6.
Summer movie nights – free for Bethany Park guests
During the busy weeks of summer, we run children's movies every second evening in our Main Hall on Camp One. They are free for our Bethany Park families.
7.
Glow worm bush walk, The Loop Track and Estuary Walkway
It is an easy ten minute walk along the Estuary to the beach, cafes and store, avoiding the busy road. The Loop Track is on Bethany property and takes you around the perimetre of Camp Two. In the evenings just on dark you can walk through the bush to an amazing glow worm grotto. Only ten minutes of easy walking, so ideal for families, check at Office for directions. Take a torch!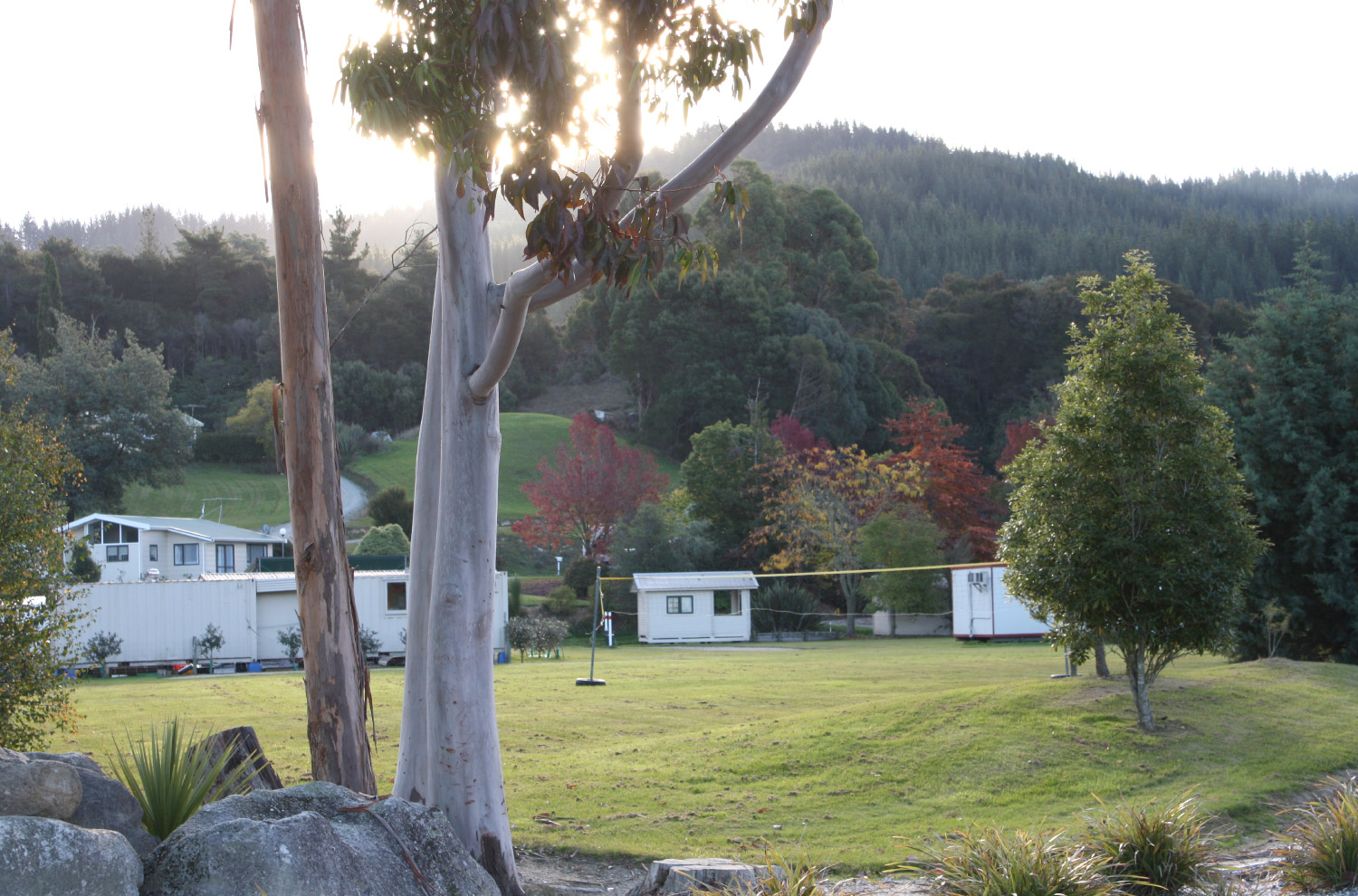 8.
The Green – for cricket, petanque, volleyball and other team activities
In Camp Two, the Holiday Park we have a large open space which is set aside exclusively for family fun. Throughout summer we have our mobile coffee cart for those morning lattes and fresh whitebait sandwiches!
9.
Kaiteriteri Mountain Bike Park
Spread over the low hills above Kaiteriteri beach is the Kaiteriteri Mountain Bike Park. Fifteen kilometres of bike trails on our doorstep. Designed and built by riders for riders, it has more than 25 trails weaving through both native forest and open terrain. There are adventures for everyone, from family groups looking for holiday fun, to more advanced mountain bikers after meatier treats including steep climbs, swift descents and testing surprises.
10.
This is a New Zealand Great Ride, 174km long, with two thirds being off-road trails. It is a scenic cycle trail that takes you past breweries, vineyards, orchards, artists, cafes, from Nelson airport through Mapua and Motueka, arriving in Kaiteriteri where you can spend a night or two in one of our family cabins! You can choose a section or two and head out for a couple of hours, take the whole day, or enjoy a multi-day biking adventure.
Top 10 things to do in Motueka
Click on the handy link below to see the Top 10 things to do in Motueka.
Top 10 things to do in the Abel Tasman National Park
Click on the handy links below to see the Top 10 things to do in the Abel Tasman National Park.
What people say about us...
Only stayed one night but it was so awesome, lovely place. It would be one of the cleanest campgrounds we have stayed in. Highly recommend to anyone.
Good morning,
Thank you for another fantastic Christmas stay at Bethany – we love the camp and how clean and well kept and well managed it is – thank you for having great standards. Was great to have the coffee cart there too.
Thanks
Leanne
Once again thanks so much for letting us park our van's with you between hires. We have also been in & out of your camp multiple times since start of season & would like to give your cleaners a huge mention. The standard of cleanliness in your camp is absolutely impeccable. I used the bathrooms myself immediately after your husband & wife team had been through & not a single thing was overlooked. It is no wonder that your camp is so highly spoken of.
Please do pass on to your house-keeping team.
Duncan & Margi, The Classic Caravan Co
We have wintered over at Bethany Park for the last 10 years, and every year has been fantastic. The facilities are excellent with lots of extras, the staff helpful, friendly and caring. With the many other campers it has been weeks of fun, laughter and enjoying lots of social activities together.
If you want a winter's holiday, then Bethany is the greatest camp you will find.
The climate, the amazing wildlife, the friendships made and the feeling of being part of a big caring family, are just some of the reasons we Winter Over at Bethany Park and have done so for the past 5 years. Also, we appreciate, the support of the Park Managers, Roger and Sue and the total management team, who go out of their way, to make each day special and everyone so welcome. Bethany Park, One Big Family.
We really enjoyed the park setting, trees, birdlife and the friendliness of staff and campers. The facilities, kitchen, bathroom and library are excellent. It is a quiet, sheltered location.
Bethany Park is an awesome place to base your camp from – lots of activities are in close proximity, such as mountain biking, tramping, kayaking, paddle boarding, swimming, etc. The waterslide in the campgrounds is an extra bonus and a hit with everyone – adults included! The accommodation is perfect for school camps and the hosts are very hospitable and welcoming – nothing is a problem. We return every year and our students love their time here.
For 20 years Chilton Saint James School's students have absolutely loved staying at Bethany Park for their Year 9 camp.
The camp staff are organised, easy to deal with and always keen to help the students have a safe and happy time. The location of the camp, at the entrance to the beautiful Abel Tasman National Park, enable easy access to the Park, the beach, the sea and bushwalks – so the activities available are many and varied. The providers in the area, such as sea-kayaking, abseiling and water taxis, deliver first class service and expertise.
Bethany Park is spacious with comfortable cabins, clean amenities, a great dining/ recreation hall and cosy conversation pit. The food is always excellent and specific dietary needs are well catered for.
The wonderful weather is a bonus, for many years we came to Kaiteriteri in September and what a treat it was to leave cold (maybe windy) Wellington behind to bask in lovely spring sunshine.
I unreservedly recommend Bethany Park for a memorable camp experience.
We loved the big park/playground at Camp 1 under the shade of the trees. Loved the atmosphere and how clean things were kept. The linen was an awesome option and really nice clean fresh things. The staff were very helpful and friendly. We loved movie nights. We like all the signage around and the safe environment. 🙂
We love this camp ground. Friendly staff and very clean and tidy facilities. There is lovely music playing in the ablution blocks. We will be back soon.
Great camp. Friendly managers who are very welcoming. Used NZMCA Camp Saver which was great value. Good choice of sites and facilities. Bike trails nearby and Motueka not far by bike. All though not beach front, its sheltered from the prevailing winds. Thanks from kiwisflythecoop.
We had a great time at Bethany, the facilities were fantastic and staff friendly and helpful, we made use of the camp saver scheme and we'll definitely be back.
We stayed here two nights. Loads of space and we had free choice to where we parked. We walked down to the beach – about 10 minutes along a track and also along the coast to Stephens Bay. The paths are well marked and easy to follow. Even though it was a weekend and there were lots of children around the site was really quiet. Showers and loos were super clean. Great place.
I really liked the feel of this campsite! Very friendly and safe. Yes it's a big site but they definitely have enough facilities. Great indoor/outdoor kitchen area with bbqs and plenty of toilets & showers. The plots are also really good size! Was nice to stay here after staying at freedom camping sites. Also free movie most nights at 7pm!
Bethany Park is fantastic! If you enjoy beaches, mountain biking, swimming, kayaking, abseiling & tramping you'll love Bethany Park as a base for your camping experience. The people are great to deal with. The facilities are clean, well maintained and new projects are always on the go. Personally I've been taking classes for 12 years and Ranzau's association stretches a lot further back than that (long may it last). Ranzau School loves it!
A very well kept campsite, absolutely spotless. Very friendly staff who gave us good information about both local sights and recommendations about places worth a visit further afield. We stayed two nights and we were very pleased with everything! One of the best campsites we've been to during our travels through the country.
My husband and I recently had 8 nights stay at your holiday park. We thought it was absolutely wonderful. Our site was perfect and the facilities were amazing. Loved showering while listening to the Magic station (my favourite). We will be back – thank you.