Unforgettable
Our location is ideal for creating challenges!
Our goal is for Bethany Park to become a place where students are challenged, encouraged and inspired. We invite you to visit us or call if you would like to discuss any of these options further.
In 1966 the Strawbridge family donated the original piece of land, now 'creatively' known as Camp One to the Church of Christ for the benefit of youth and the community in the Nelson region. We have been welcoming schools and community groups ever since. The location is ideal for the challenge of the Kaiteriteri Mountain Bike Park or kayaking on the high seas of the Abel Tasman National Park… or just enjoying our famous 60 metre water slide! We have bunkhouse accommodation and teacher cottages, with catering and non-catering options available.
Experience
One of the most beautiful locations in New Zealand
Our aim at Bethany Park is to offer quality of experience for school groups in one of the most beautiful locations in New Zealand. There is something unique that takes place when we slow down and breathe in nature. Exploring the outdoors in an environment like Bethany Park has changed many lives over the past fifty six years and we are committed to offering schools a place that creates space for young people to explore, expand and be excited about life beyond their phone!
We work in partnership with local businesses and community groups to develop and inspire New Zealand children for the good of our nation and a strong and purposeful future. One local company excelling in providing a first-class outdoor cultural educational experience is Waka Abel Tasman, with their new school programme, https://wakaabeltasman.nz/school-groups/ 
If you choose to use Bethany Park as your camp, we will do our very best to make your stay and experience one not easily forgotten…for all the right reasons!
Outdoor Education School Groups
We are a perfect location for winter adventures for your Outdoor Education students! With 15 kilometres of awesome mountain biking in the adjacent Kaiteriteri Mountain Bike Park (KMBP), and sea kayaking and walking in the Abel Tasman National Park at our doorstep, you need travel no further. Our Group Camp is available from March through November.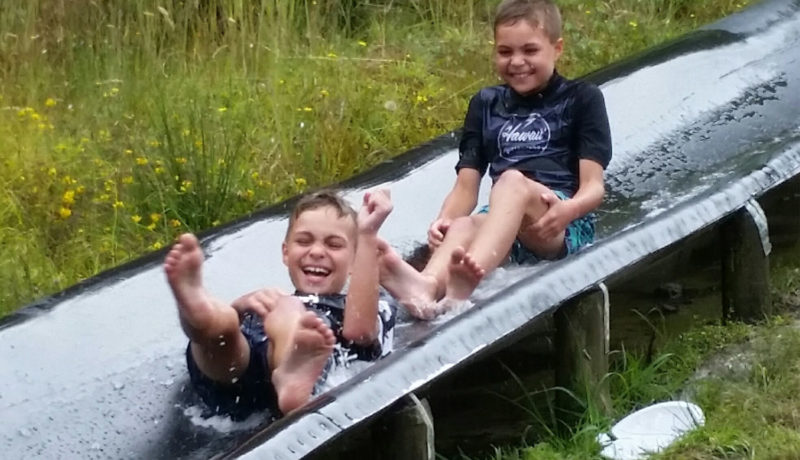 WET and MUDDY
Get wet and muddy on our 60m waterslide, without doubt a hit at any age, even in winter! It is located on Camp One which is our Groups camp, bordering the KMBP. We have bunkhouses sleeping up to 74, with catering or self-catering options available.
CAMP WILD
Or go bush at CAMP WILD. We have over 33 hectares of established native bush, with creeks and ponds and over the hill from the main camp is an area dubbed 'Camp Wild'. We have an open fire pit and flat areas for tents, where groups can camp, enjoying the 'wilderness' without having to travel miles!
MOUNTAIN BIKING
Mountain biking at its best with three of New Zealand's great tracks are at our doorstep. The trails are great in winter, less tourists just locals and pukekos, calm seas and lonely mountain tracks. Check out the Kaiteriteri Mountain Bike Park – 15 kilometres of purpose built mountain bike tracks. Half an hour drive away is the Rameka Track on the Takaka Hill and 45 minutes to the start of the 43 km Dun Mountain Trail – see www.mtbtrailstrust.org.nz. Kayaks can be hired from any one of the five kayak companies in Kaiteriteri or Marahau taking your students into the Abel Tasman National Park.
SCHOOL GROUP ACTIVITIES
More Information & Pricing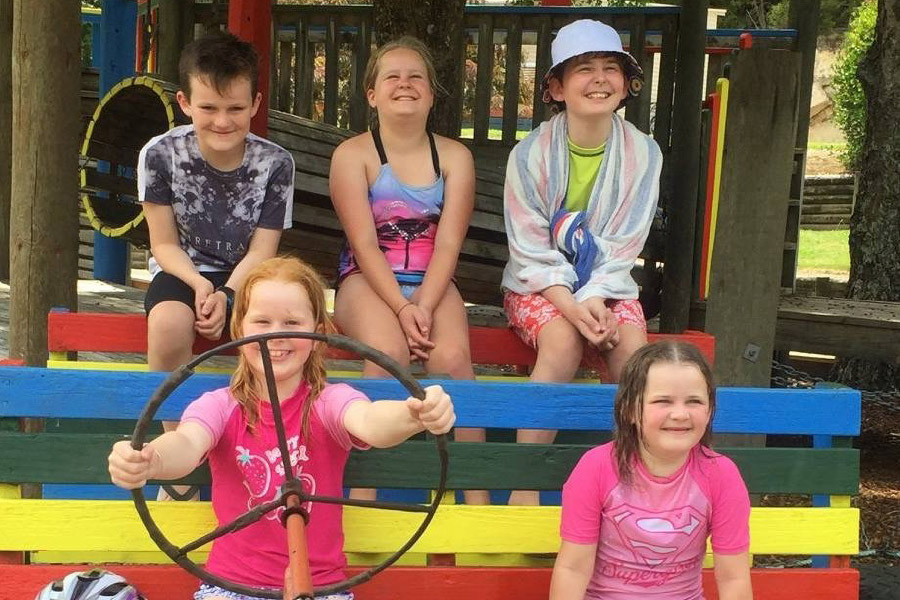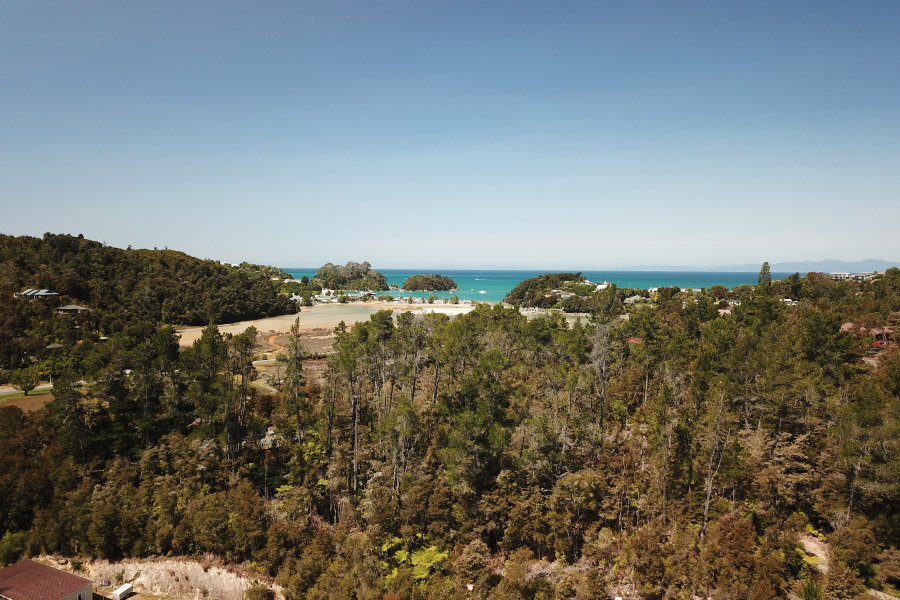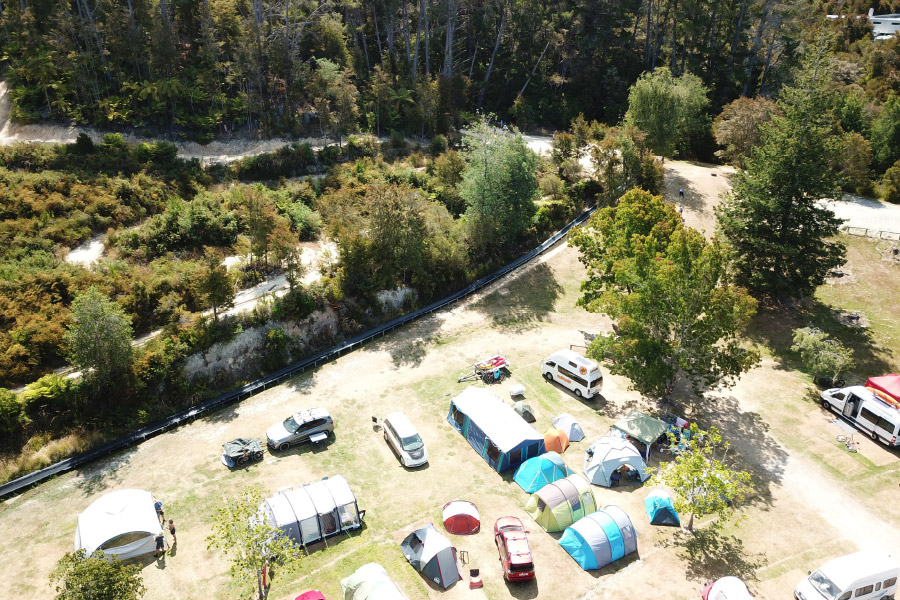 What people say about us...
Bethany Park is an awesome place to base your camp from – lots of activities are in close proximity, such as mountain biking, tramping, kayaking, paddle boarding, swimming, etc. The waterslide in the campgrounds is an extra bonus and a hit with everyone – adults included! The accommodation is perfect for school camps and the hosts are very hospitable and welcoming – nothing is a problem. We return every year and our students love their time here.
For 20 years Chilton Saint James School's students have absolutely loved staying at Bethany Park for their Year 9 camp.
The camp staff are organised, easy to deal with and always keen to help the students have a safe and happy time. The location of the camp, at the entrance to the beautiful Abel Tasman National Park, enable easy access to the Park, the beach, the sea and bushwalks – so the activities available are many and varied. The providers in the area, such as sea-kayaking, abseiling and water taxis, deliver first class service and expertise.
Bethany Park is spacious with comfortable cabins, clean amenities, a great dining/ recreation hall and cosy conversation pit. The food is always excellent and specific dietary needs are well catered for.
The wonderful weather is a bonus, for many years we came to Kaiteriteri in September and what a treat it was to leave cold (maybe windy) Wellington behind to bask in lovely spring sunshine.
I unreservedly recommend Bethany Park for a memorable camp experience.
Bethany Park is fantastic! If you enjoy beaches, mountain biking, swimming, kayaking, abseiling & tramping you'll love Bethany Park as a base for your camping experience. The people are great to deal with. The facilities are clean, well maintained and new projects are always on the go. Personally I've been taking classes for 12 years and Ranzau's association stretches a lot further back than that (long may it last). Ranzau School loves it!