The right place
Are you planning a family reunion, staff training, or community group gathering?
Are you searching for a unique location and venue for a family celebration? A place which is central to activities ideal for a team building exercise? Are you a local community group needing a place to gather together with accommodation, self-catering kitchen and meeting area?
Are you part of a mountain biking group wanting for the best location with the most tracks nearby? Three of New Zealand's great tracks, Kaiteriteri Mountain Bike Park, Dun Mountain and Rameka Track are at our doorstep…and yours, if you choose to stay with us. Kaiteriteri is great in winter, less tourists just locals and pukekos, calm seas and lonely mountain tracks. Search no further.
We might be your answer!
One of the most beautiful locations in New Zealand
Walking or kayaking in the Abel Tasman Park is especially good in the winter months, less people, calm seas, great fishing! We would love to help, as getting people gathered together is what Bethany Park is all about.
Our Group's Camp is set up with bunk rooms and a Lodge bunkhouse with ensuites, sleeping up to 74. There are two venues to choose from, a large main hall with a wonderfully cosy area with a fireplace for up to 100 participants, and a small hall with self-catering kitchen, perfect for a group of 50 or less.
Small Conferences
A purpose built small conference room
In 2020 we completed a new office complex which includes a purpose built small conference room with self-catering kitchen. It has a capacity for up to 20 participants boardroom style and 30 theatre style. The room is approximately 8 metres by 5 metres.
We can provide data projector, screen and whiteboard. There is a fully equipped kitchen and leading off the room is a sunny and sheltered verandah for breakouts or morning tea and lunch. We have plenty of car parking available and are just one kilometre from the Kaiteriteri beach and cafes.
The conference room is in Camp Two where we have ensuite cabin accommodation for up to 14 people and our two houses can accommodate another 11 guests. Alternatively, we have six new basic tourist cabins, sleeping up to four people in each.
This conference room is accessible by ramp, with separate carparking, and has an accessible bathroom.
Contact us if you would like to visit the facilities or discuss your conference or meeting needs. Happy to help!
More Information & Pricing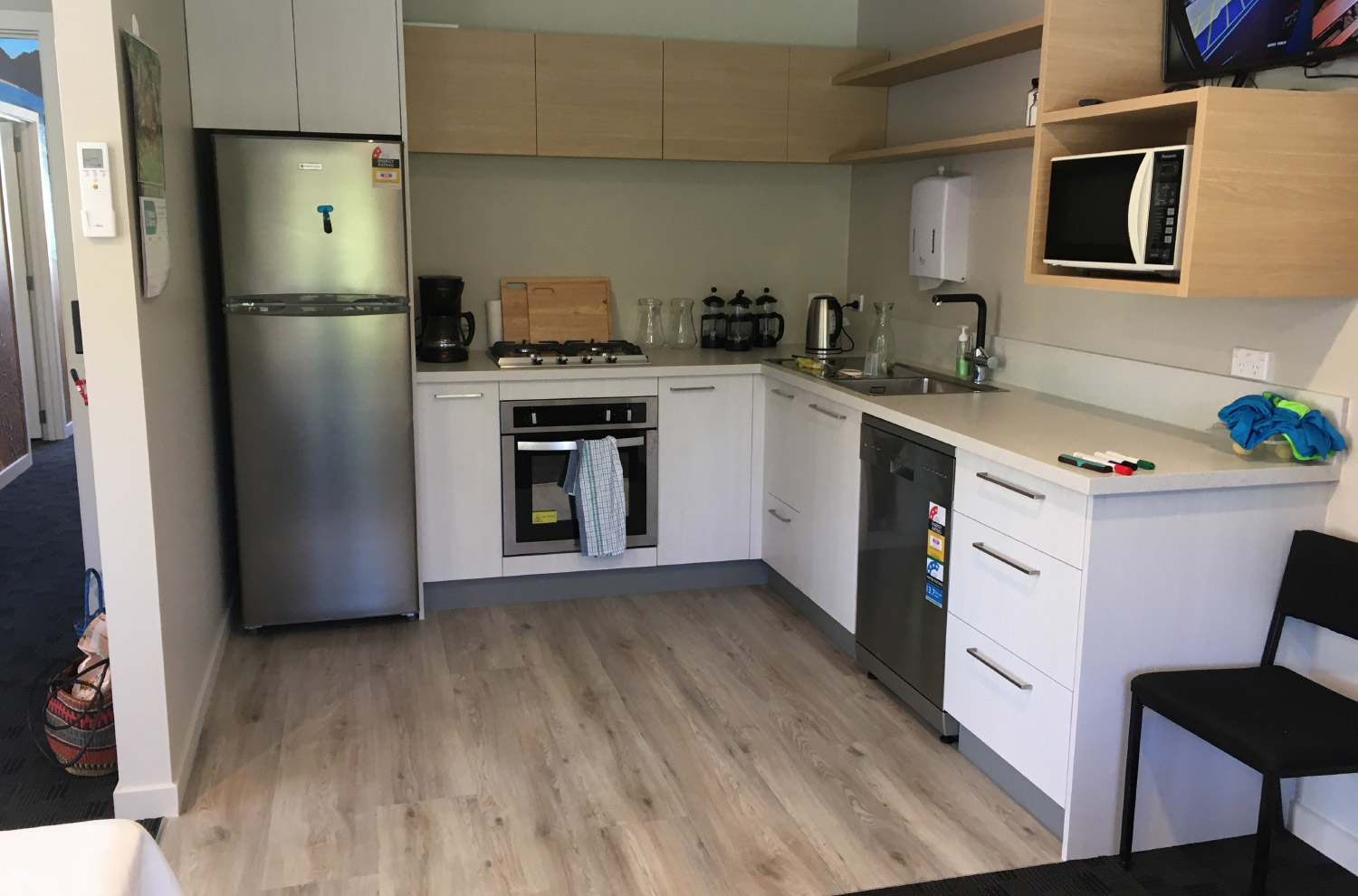 What people say about us...
Bethany Park is an awesome place to base your camp from – lots of activities are in close proximity, such as mountain biking, tramping, kayaking, paddle boarding, swimming, etc. The waterslide in the campgrounds is an extra bonus and a hit with everyone – adults included! The accommodation is perfect for school camps and the hosts are very hospitable and welcoming – nothing is a problem. We return every year and our students love their time here.
For 20 years Chilton Saint James School's students have absolutely loved staying at Bethany Park for their Year 9 camp.
The camp staff are organised, easy to deal with and always keen to help the students have a safe and happy time. The location of the camp, at the entrance to the beautiful Abel Tasman National Park, enable easy access to the Park, the beach, the sea and bushwalks – so the activities available are many and varied. The providers in the area, such as sea-kayaking, abseiling and water taxis, deliver first class service and expertise.
Bethany Park is spacious with comfortable cabins, clean amenities, a great dining/ recreation hall and cosy conversation pit. The food is always excellent and specific dietary needs are well catered for.
The wonderful weather is a bonus, for many years we came to Kaiteriteri in September and what a treat it was to leave cold (maybe windy) Wellington behind to bask in lovely spring sunshine.
I unreservedly recommend Bethany Park for a memorable camp experience.
Bethany Park is fantastic! If you enjoy beaches, mountain biking, swimming, kayaking, abseiling & tramping you'll love Bethany Park as a base for your camping experience. The people are great to deal with. The facilities are clean, well maintained and new projects are always on the go. Personally I've been taking classes for 12 years and Ranzau's association stretches a lot further back than that (long may it last). Ranzau School loves it!